Evaluating the X3D Schema
with Semantic Tools
Marc PETIT (EDF) - Henry BOCCON-GIBOD (EDF) - Christophe MOUTON (EDF)
X3D History
X3D turns 18 this year !

It is a successor to VRML (1.0 : 1994; 2.0 : 1997).

A large part of X3D's data model comes from VRML.
X3D even has a VRML encoding.

2004 : X3D appears as v3

X3D's evolution is guided by several Working Groups.

Each one focuses on a topic : CAG, GIS, medical ...

With this long and rich history comes complexity.

Maintaining consistency in this context is difficult at best.
X3D : the need for consistency
The need for consistency in 3D data depends on the target.

For art or games, it may not be very high as long as the behaviour seems correct.
For CAD or medical visualization, any issue can have dire consequences.

In XML, data consistency is mostly enforced by the document's schema.

Other solutions are available (like schematron), yet not always used.

An online validator is available at https://savage.nps.edu/X3dValidator (thanks to Don Brutzman at Naval Postgraduate School).
Using additional validation services make the system more complex.

The set of rules which make the standard is defined by the schema.

The ability to control data quality is important for many applications.

The Ariane 5 launch failure in 1996 was due to improper ranges of values !
Our company operates 58 civil nuclear reactors ...

3D is critical for none of these yet quality insurance is a mandatory feature for us.

A methodology for systematic XML schema quality control is required.
Metamodels and their uses
Metamodels are models of models.

A classical metamodel is UML.
In order to avoid multiplying levels, the last one usually is self-described.

This led to the introduction of the Meta-Object Facility by the Object Management Group.

Each metamodel has specific uses.
| | | | |
| --- | --- | --- | --- |
| | | Document | Description |
| M2 | Metamodel | XML Schema | OWL |
| M1 | Model | X3D | Terminology (categories of things) |
| M0 | Data | teapot.x3d | Assertions (actual things) |
XML Schema
An XML schema is a description of the structure and limits of a valid document.

Its philosophy is inherited from the Document Type Definition.

Schemas are more powerful, allowing a more precise definition of structure and values.

A schema is an XML document.

XML schemas are validated by XMLSchema.xsd.
Analysis of the schema is guided by its tree structure.

X3D documents are validated by the X3D schema.

A fragment from the 3.2 schema :

This fragment defines the IndexedFaceSet element.
The whole document is more than 10.000 lines long !

65 simple types, 72 complex types, 232 elements.
Anonymous types, hundreds of attributes.
Keeping this document consistent is a complex
task at best.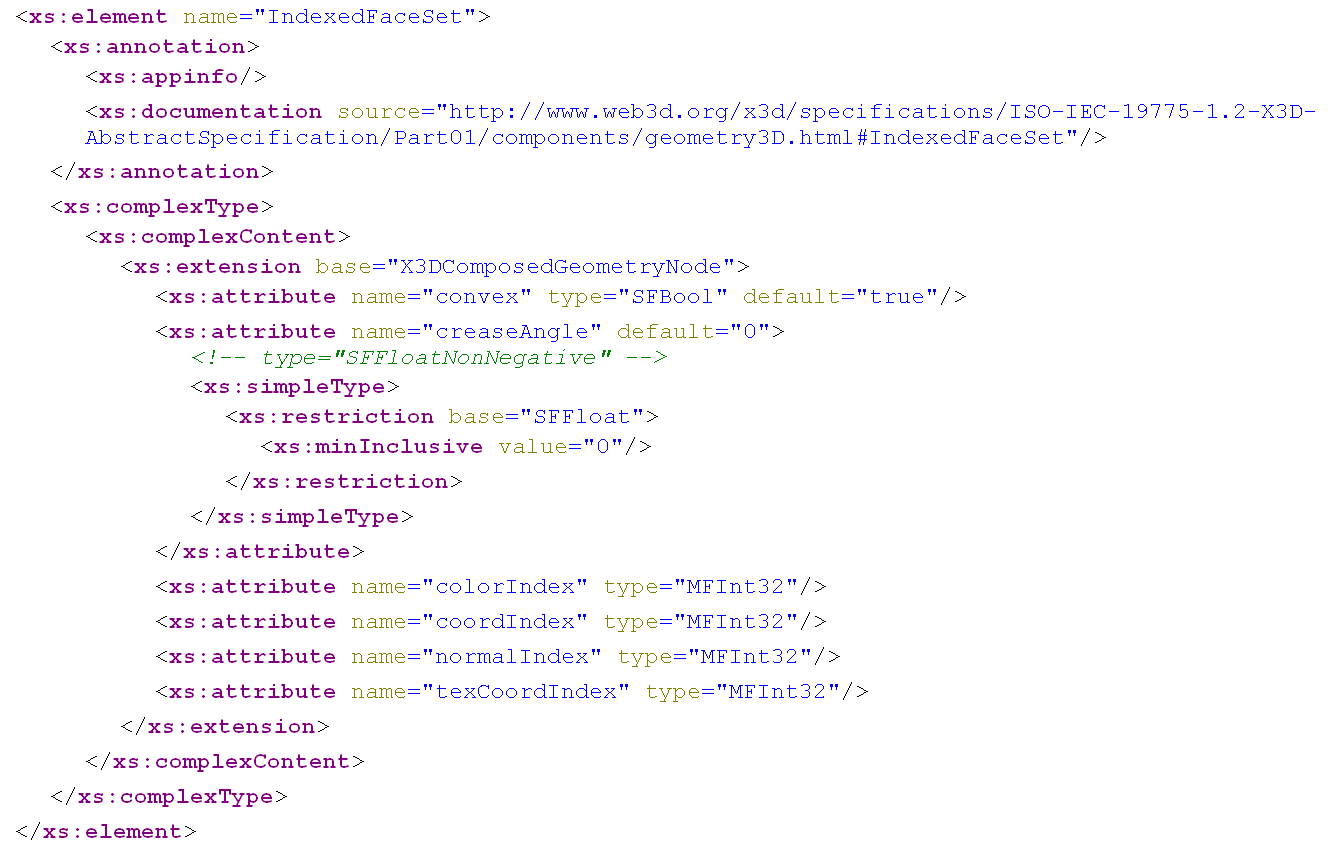 Resource Description Framework
RDF is a framework for description (knowledge representation).

It is based on assertions.

An assertion is a triple : subject - predicate - object.

A more usual way to refer to this is : subject - verb - complement.
The lack of document structure make contradictions possible.

The absence of a statement doesn't imply its falseness.

This is the open world assumption.

This can be opposed to default values in schemas.
New assertions can thus be deduced by reasoning.

Anything is a resource.

Only a Uniform Resource Identifier is needed.

RDF Schema extends the RDF vocabulary.

It introduces new resources which help in the structuration of knowledge.

It introduces the notions of class and property.
Properties are also part of RDF Schema.

Properties can have domain and range.
Specific properties like "label" or "subTypeOf" are included.

Web Ontology Language
An ontology is a formal description of the concepts and entities of a domain.

Concepts and their relationships form the terminology.
Knowledge about the concepts and entities is supported by assertions.
Knowledge can be extended by reasonning.

The OWL language extends RDFS. It adds new features to it :

Property characteristics and restrictions.

Transitive, symmetric, functional, cardinality ...

Mapping (equivalentClass, sameAs ...).
Complex classes (intersection, union ...).

It represents knowledge and only it.

Nothing is implied by structure or by default.

Is X3D about description or document ?

Is content or structure more important ?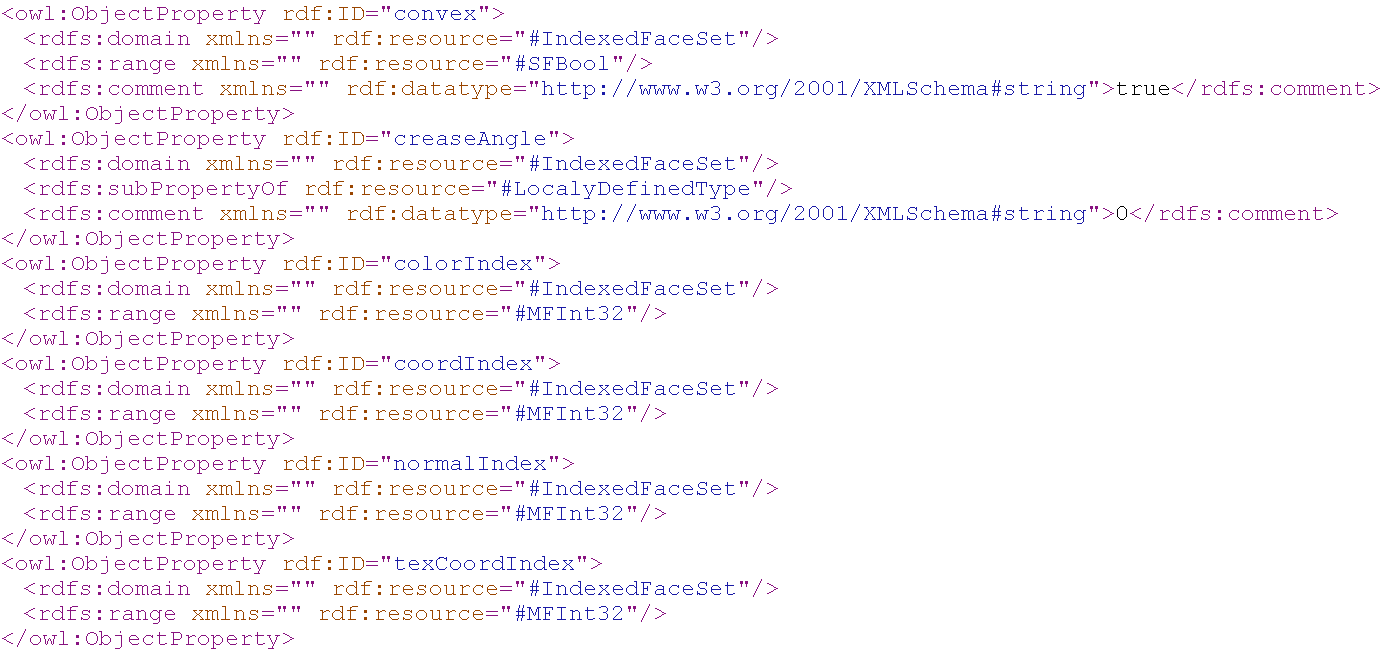 Semantic evaluation process of the schema
Before even considering data, the semantic validity of the schema in itself should be assessed.
We use a process in 4 steps.

Extract knowledge from the schema.

Convert the schema to an ontology by XML Stylesheet (XSL).

Clean the extracted ontology.

Reordering and simplification is achieved by opening and saving the ontology with the Protege editor.
The use of a knowledge base make simplification possible.
Reasoning could be used here to enhance the available knowledge (RDFS would be enough at the moment).

Produce an analysis report.

Suspicious patterns are encoded into an XSL which directly produces an HTML report.
Pattern detection is made easier by the use of Protege.

Analyze the report.

This is the only human action (diagnosis is too specific and complex to be automated).
For X3D 3.3, 81 out of 469 attributes are detected as suspicious.
XML Schema to OWL mapping
There are many possible mappings between XSD and OWL.

The mapping has to be adapted to the need.

Usually, the goal is to map 3D to other data (through the owl:sameAs property).
In our process, the ontology is only used for terminology control.

As a consequence, it doesn't need to be populated.
Elements and attributes are translated into OWL classes and thus can have properties.
Links between elements, types and attributes are translated into properties.

The conversion is based upon three rules.

Named complex types are mapped to classes, wherever they are defined.

Anonymous complex types are expanded in place.

Named simple types are mapped to classes, wherever they are defined.

Anonymous simple types are not mapped. This makes detection of lack of consistency between simple types easier.

The mixed attribute is not mapped.

The included text is unstructured, so trying to check its model is futile.

Attributes are mapped to properties

Attribute are identified by name only. Homonymous attributes are considered a single property.

This is why we need to simplify the ontology : stating tens of times that a name is an SFString is useless.
Report extraction
Attributes with anonymous type are detected.

It is possible that defining a named type is useless.
There is however a risk that such a type should have been shared.

Attributes with multiply defined type are detected.

A generic concept could exist with multiple implementations.

The concept is usual in meta-programming.
This can be implemented in OWL as a property with no defined range, with a subproperty for each type.

It can also be the symptom of an uncompletely defined concept.

As long as the possible inconsistency isn't identified and documented, there remains an unacceptable risk.

Considering the list of issues detected with these two rules, we have stopped there for now.
Example issue : angle
5 attributes are related to the angle concept.

startAngle, endAngle, creaseAngle, cutOffAngle, beamWidth

For each one, the type is defined locally.

As a float between -6.2858 and 6.2858.

These are not the best IEEE 754 approximations for 2*Pi and -2*Pi.

As a positive float.

There is no maximum value.

As a positive float limited to 1.570796.

This local definition has several drawbacks.

The schema is bigger than it needs (because of multiple definitions for the same type).
There is no identified relationships between angles.

These could be useful for scripting or code generation.

Adding the needed types is transparent for X3D documents !
Example issue : depth
The depth attribute exists with two different types :

SFFloat on Contact.
MFVec3f on FogCoordinate.

The difference is too important for a well defined concept.

SFFloat and MFFloat could be right considering the difference of dimension of the supporting objects.
There is however no reason for a 3D depth for each coordinate of a fog.

How has this been unnoticed for so many years ?

The regular expression supposed to check the validity of MFVec3f is flawed.

An empty string is valid from the schema's viewpoint.

The same is true for SFVec3f.

The number of values doesn't have to be a multiple of 3 !

Most people don't actually read the schema or test error cases.
Even worse, the specification is correct and inconsistent with the schema.

Section 24.4.3 of the specification states that FogCoordinate.depth is of type MFFloat.
The schema states it is a MFVec3f.
Detected issues
Inline type definition

Several simple types should be added (listed in the paper).

Listing and adding them systematically actually reduces a bit the size of the schema.

Regular expression based validation has limits.

Too much freedom is left in the definition of some types.
This was detected even without considering the double parsing issue.

Inconsistencies exist between specification and schema.
Precision may be inconsistent within a scene.

GeoElevationGrid uses double precision (except for yScale) yet is a X3DGeometryNode and can be used anywhere.

In some cases, very generic concepts are used.

This is a false positive in our detection.
Being able to understand the genericity of these concepts is however interesting.
Example of a corrupt "valid" file
This file, despite its flaws, is considered valid by the schema.

Even Schematron only warns about the 2.666 triples issue !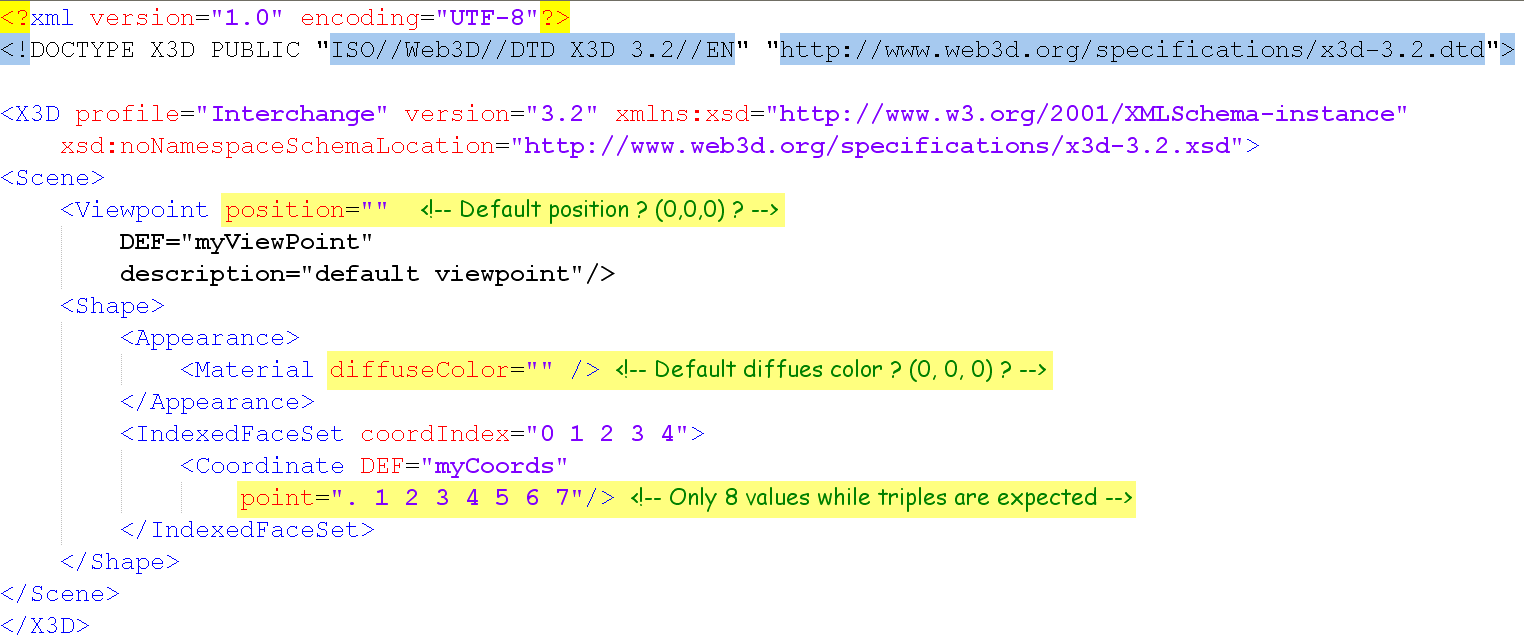 Conclusion
We proposed a methodology for schema evaluation.

A large part of it is automated, and makes it possible to focus only on possible problems.
It was used on X3D, yet the automated part can be applied to any XML schema.
As of today, only the attributes are investigated, and no actual OWL reasoning is applied.

We proposed several enhancements to X3D.

Some have a limited impact, other will break backward compatibility.

Since only inconsistent documents cannot be automatically transformed into the evolved schema, this would be beneficial anyway.

We showed that an ontology helps keep a more consistent model.

An ontology only focuses on knowledge and doens't imply anything due to structure or default values.
The knowledge inside the X3D schema could be integrated into an ontology.

Evolution could be made more consistent.
Ideas could emerge (are CAD people the only ones interested in visibility and layers ?).
The Schema could be generated from this ontology.

OWL offers possibility (unused here) which could be used for data consistency checking.
Future work
For the authors.

Extend the transforms to other aspects of the schema.

Attributes grouping.
Elements and types relationships.

Apply the methodology to other formats (COLLADA breaking news : the methodology was applied to COLLADA and an error was confirmed yesterday !).

For the whole X3D community.

Integrate the proposed evolutions.
Create an ontology for X3D knowledge management

Our XSL transforms can be used as a basis.

Use this X3D ontology to build X3D v4.

Backward compatibility could be ensured by transforms.
An OWL encoding should be added to X3D.
Thank you for your attention